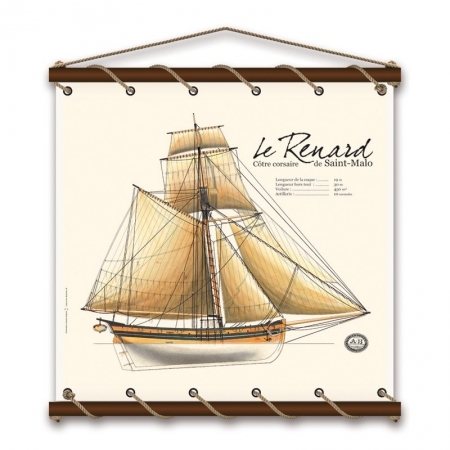  
Le Renard watercolour
Dimensions 75 x 75 cms
ornamental Wall panel in cotton cloth. Assembly tinged unhewn timber chestnut, carnations and rope in hemp.
Delivered in a silk-screened linen bag.
French manufacturing
This famous côtre St Malo's privateer, accompanied the most famous Robert Surcouf in its maritime campaigns.
Saint Malo's fox Côtre Corsaire.
The Fox is a cutter with topsails, retort of the last boat armed, in 1812, by the privateer malouin Robert Surcouf (1773-1827).
Length of the hull: 19 m Length except quite 30 m Buckle: 450 m ² Artillery: 10 caronades.